About Brisk
BRISK Coffee Roasters was founded in 1968, with a 100-pound batch roaster, a small warehouse, one delivery truck and a passion for fine coffees. Today, BRISK has grown to become one of the largest independent roasters in the Southeastern United States, with offices in Tampa, Ft. Lauderdale, Miami and Atlanta. Through our network of distributors and transportation affiliates, we are able to serve customers in Florida, throughout the US and worldwide.
State of the Art Building and Equipment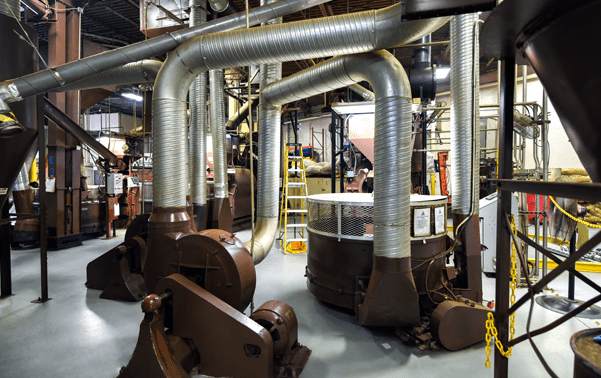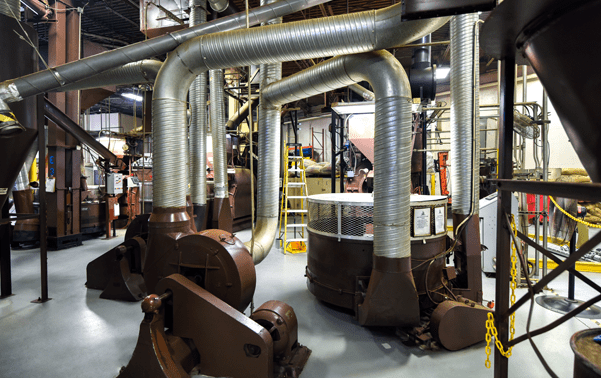 Our dual building design flow makes the best use of space, allowing efficient raw matierals and finished goods inventory management. Multiple loading docks and bays ease incoming shipments, outgoing shipments and haul administration. Important manufacturing features of our operation include:
Burns Thermalo ACO 500 pound 4-bag Capacity Roasters with customer retrofitted control panels for better control of roast temperature and time
Burns Catalytic Afterburners that meet Federal EPA Standards
Burns 2000-pound capacity coffee blenders
High performance bag house-style dust collectors, coolers, and stoners, operated by sequential computerized control, all operate to maximize green bean preparation for roasting
Gump Model 777 Coffee Granulizers
Gump Coffee Granulizers fitted exclusively for espresso coffee
Masipack continuous motions high speed packing machines
Key-Pack form/fill/Seal Vertical Packing Machines
Key-Pack Form/Fill/Seal Bag-in-Bagger specialty machines for filter pack, in-room and airline coffee
Vertical Form/Fill/Seal Whole Bean Packers capable of producing 1 lb. – 5 lb. polypropylene bags
Retail, specialty pack equipment
Quality Control and Customer Service
On-site laboratory used for quality control, research and development, proprietary blend development, testing and analysis.
Centralized Customer Service and Billing Center, MIS integrated and fully computerized with EDI capabilities using multiple ordering platforms.
Multiple docks and bays ease incoming shipments, outgoing shipments and haul administration.
On-site Conference Center overseeing nature preserve.