Brisk Coffee Services
Fresh, quality coffee for your foodservice operation. Brisk Coffee services and manufactures a wide variety of blends, roasts and pack sizes to accommodate the needs of every foodservice operator. For instance, we help the following industries:
Restaurants
Catering
Coffee House Cafes, Cafeterias & Kiosks
Hotels – In-Room Coffee & Hospitality
Health Care – Hospitals, Nursing Homes, Assisted Living Facilities
Travel – Airlines, Cruise Lines, Airport Concessions
Convenience Stores
Contracted Foodservice Companies
Military & Government
Lastly, Institutional/Corrections
Private Label/Proprietary Blend Development – Product Focused Program
From Start to Finish, we not only manage the design and development, but also we complete the implementation of your own coffee brand.  MORE >
Coffee Program Training as part of Brisk Coffee Services
Also, we will train your managers on everything coffee. In fact, we'll train on proper brew techniques, clean equipment, product rotation, etc. This will greatly increase the success of your coffee program. This is a complimentary service we provide for all our customers.  MORE >
Signature Coffee Programs Assistance – Service Focused Program
Brisk Coffee designs and launches coffee programs for restaurants, convenience stores, the hospitality industry, the healthcare industry, etc. Kiosk and equipment design and placement, whole bean, varietals, filter pack, signature blends unique to your company also available.  MORE >
Espresso Products, Equipment, Supplies and Training
Espresso is the fastest growing beverage item in the foodservice category.
Until now, it has been difficult for operators to capture this lucrative category. Working with Café Perez will enable operators to capitalize on the popularity of this beverage by providing the tools for success to restaurant chains, coffee house owners, baristas and distributors. Café Perez is also available for retail operators.  MORE >
Supply Chain Management
Through the utilization of our network of logistics specialists provides consistency and accuracy of product throughout your organization.  MORE >
National Equipment Service Network
In fact, our Technical Department will handle your coffee brewer service anywhere in the U.S.  MORE >
Custom Roasting and Delivery Program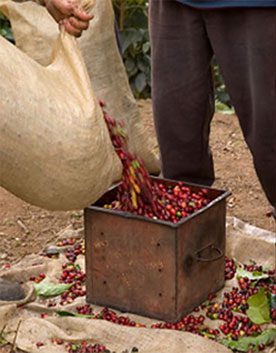 Our 'Roasted Fresh, Delivered Daily' model is innovative and unmatched in our industry, allowing you, the foodservice operator, to serve the very freshest, best tasting coffee to your customers. Every coffee bean is a different size, shape, color and density, and requires a different application of heat and timing to unleash the full potential of a bean's flavor. Variables such as air temperature and humidity can affect each roast. To achieve optimum flavor, our highly skilled master roaster closely monitors, and makes adjustments to each batch using the latest computerized roasters, thus ensuring the highest quality and consistency.
Our factory direct, next-day custom delivery programs offer a wide range of order options to accommodate your needs. Other delivery options include distributor, coffee service or LTL/truckload options.  MORE >
Roasting Coffee Services Since 1968
We believe that the best coffee is created through a partnership of Old World Craftsmanship and New Age Technology. Not only do we keep these guiding principals in mind, but also we follow a simple rule that other coffee companies cannot match:
We don't roast a single bean, until you place your order.
All in all, this means that your coffee is as fresh as it can possibly be. The flavor of coffee peaks after roasting and then diminishes over time, even in a sealed bag, and very quickly once exposed to air, light, and moisture. So, the sooner you can enjoy your beans after roasting, the better your coffee will taste.