Coffee Program Training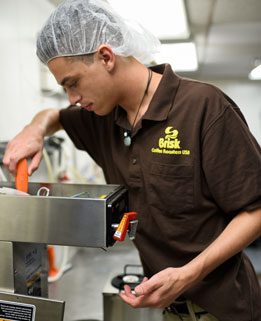 We will train your managers on everything coffee. From proper brewing techniques, cleaning equipment, to proper product rotation, we cover everything under the sun about coffee. Our coffee training program will greatly increase the success of your staff and sales. This is a complimentary service we provide for all our customers and business partners. If you would like to get started, please let us know by contacting us.
Coffee Program Training Methods and Strategies:
Drip Coffee: For a successful coffee program, water quality and temperature, brewer maintenance and cleanliness, serving technique, among other factors, are very important to consider. Our experienced team of experts will train your staff. This ensures every cup of coffee served in your establishment is of the highest quality.
Specialty Drinks: Secondly, specialty drinks are the fastest growing area in the coffee industry…and the most profitable. Let BCR show you and your team how to execute specialty drinks. In fact, this will expand your customer base and increase customer satisfaction.
Espresso: Thirdly, our Espresso Specialists can select the right espresso coffee, and equipment, for you and your team to best serve espresso and espresso-based drinks. Our technicians are trained and skilled at the installation, repair and maintenance of automatic, semi-automatic, and super-automatic espresso brewers. Until now, it has been difficult for operators to capture this lucrative category. Working with Café Perez will enable operators to capitalize on the popularity of this beverage by providing the tools for success to restaurant chains, coffee house owners, baristas and distributors. Café Perez is also available for retail operators.
Corporate Compliance: If you want to promote coffee program consistency across a multi-unit operation, we will work together with your Culinary and Compliance Teams to create training and in-service programs that will fit your organization's training policies and culture. Above all, do you have any questions about our coffee program training? Let us know here.