Private Label/Proprietary Blend Development
Product Focused Program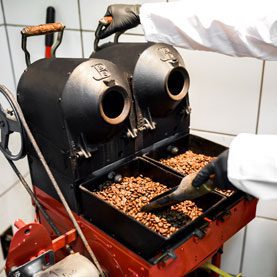 From Start to Finish, we manage the design, development and implementation of your own coffee brand.
Coffee blend and flavor profile development: create your own unique coffee by working with our Coffee Team. The process begins by choosing your own beans from a selection of various origins and estates. Our Master Roasters will help you to pick the right roast color and grind.
Packaging: Our Design Team helps you to envision the look you want for your packaging, then will order the printing plates and film to enhance your brand.
Crash Print Package Program: Create a coffee program all your own without the investment of printing plates and material minimums. BCR's crash print technology will enable you to launch a proprietary, private label program that takes just weeks to launch.
Tea and Ancillary Items: Tea and other ancillary items are also available to round out your unique beverage program.