Quality Control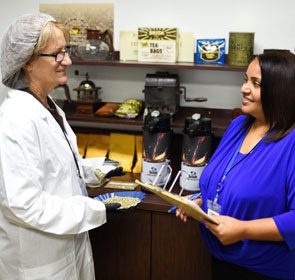 In 2010, we moved to a new location, redesigned our plant, increased production capacity significantly, and greatly improved manufacturing processes. With our old plant, we were just like every other coffee roaster that roasted large amounts of coffee. For instance, we held it in inventory, sent it to distributors where it sat for extended periods of time before the end user actually ordered and received it. You see, what you may not know is once the coffee quality control is that it begins to lose freshness.
We have designed our production facility to run on a Just-in-time business model. Essentially, this means we ensure all of our customers receive the freshest, highest quality coffee available on the market today. Our quality control team is truly one of the best in the country.
This is the value proposition we bring to our customers…that every Brisk coffee Roasters customer brews the freshest, highest quality coffee available on the market today, combined with the resources and know-how of a national foodservice supplier, for a profitable coffee program.
Our products are certified USDA Organic so we source the finest raw beans that are grown at the highest standards and are free from pesticides and other chemicals, so you can rest assured what you are putting in your cup is safe for you and your family. We have a focus on your health and well-being because you're a part of our family.