Roast of the Season: Spring Edition Recipes 1
As the days start to warm and the first green buds of spring make their appearance, here are a few specialty coffees to help spice up your feature offerings. Continue reading for spring edition recipes for coffee…
Spring has sprung and an excellent way to celebrate is with a new spring coffee special or two. The season of new life and new beginnings is punctuated by brisk mornings and warm midday sun. Taking these temperatures into account can help you plan your seasonal offerings.
Iced coffee and light lattes are the perfect midday pick-me-up. Meanwhile, something rich and warming can be an excellent way to shake off sleep and start your day. Or finish it in decadence depending on your preference.
Beyond being fun and seasonal, studies show that consumers are attracted to limited-run products. Running special seasonal drinks can be a great way to boost coffee sales and gives your staff another talking point to work into their routine. All of the recipes detailed here are simple to prepare and delicious. So, without further ado, let's dive in.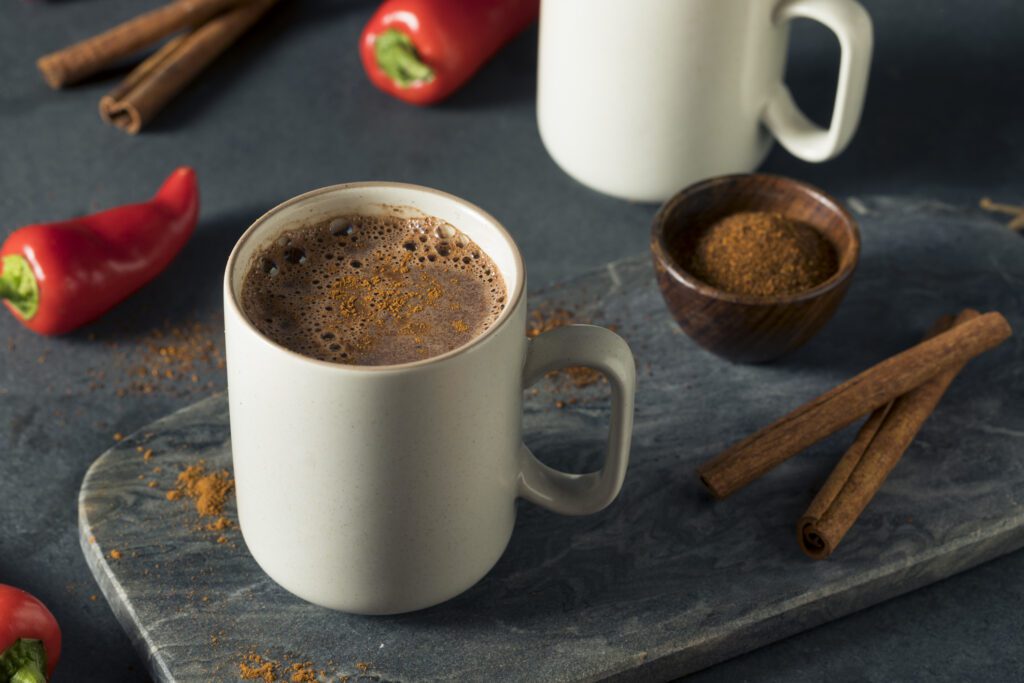 Spring Edition Recipes:
Mexican Mocha 
When it comes to shaking off the morning chill, nothing brings the heat like a Mexican Mocha. Rich coffee, delicious chocolate, and a fragrant mix of spices elevate this drink above the common cappuccino.
Starting with the coffee base, you will want either a stronger dark roast or a nice full-bodied espresso to help keep the coffee flavor prevalent with the other strong flavors in this drink. We recommend our 22nd Street Premium Estate Majestic Kaffa Coffee or our Café Perez Espresso coffee in a medium grind and brewed through a traditional 12 cup coffee maker. From there add unsweetened cocoa powder to add a nice chocolate hint to your drink.
The spices that form the backbone of this flavorful brew are cinnamon, nutmeg, and cayenne pepper. The gentle heat of the cinnamon pairs wonderfully with the more pronounced burn of cayenne. And the nutmeg adds a warm comforting touch to the whole affair. A helping of sugar helps to cut the bitterness from the cinnamon and cocoa powder.
One of the best parts of this recipe is that you can create the spice mix ahead of time. Making a large batch to store in an airtight container and use as needed helps cut down on prep time and ensures consistency between cups.
For ratios, you want the following:
1 cup of sugar
½ cup of unsweetened cocoa
2 tsp. each of cinnamon and nutmeg
1 tsp. of cayenne pepper
3 tablespoons of the dry mix per cup of coffee will provide a rustic and robust flavor
This amount can be adjusted to taste or to match the size of your coffee mugs.
Lavender Honey Iced Latte
For a delicious and refreshing midday beverage, it's hard to beat a Lavender Honey Iced Latte. While this drink pairs best with a cold brew coffee, it works just as well with regular drip coffee.  We recommend our 22nd Street fresh cold-brew coffee or our 22nd Street Premium Estate Asian Sun Coffee. A lighter roast with floral tasting notes pairs very well with this drink, beware of dark roasts that may overpower other flavors.
The major players here are lavender syrup and honey as the name might suggest. Other than that, it's just going to be straightforward, with the only other ingredients being ice and milk.
To get that lavender honey flavor, you can source premade lavender syrup and then add honey. This method is easier but can result in a very sweet drink if you're not careful with your measurements.
Alternatively, you can create your own lavender honey simple syrup!
It's no different than making any other simple syrup, but here are some ratios to help you get started:
2 tsp. of fresh lavender flower (or 1 tsp. of dried)
½ cup of granulated sugar
Also, ½ cup of water
½ cup of honey
To serve, add 2 tablespoons of your lavender honey syrup to ⅓ a cup of coffee and ⅓ cup of milk, then top it up with ice. Simple, refreshing, and delicious is the name of the game here.
With these recipes to get you started, check back with us soon for more seasonal coffee drinks. The next part of this series will have recipes for a delightfully unique Rose Latte, as well as a decadent Irish Cream Coffee.
If you have any questions about how to make one of our coffee recipes at home, contact us.
< Back to Blog